"So, how's your vacancy rates these days?" I asked a manager who I'd popped in to visit for a quick chat. "Great, we're almost full, and our two bedders fill faster than we can list them!"
"Oh that's excellent"
"It is" she continued before pausing "there's just this one listing I'm having a really hard time shifting…" She went on to explain she'd had this unit sitting vacant for over a month, the owner wanted two thousand dollars a week in rent. It was in a great area, it was a penthouse, it had incredible views and a stunning private rooftop terrace, but even so… two thousand dollars a week is a lot of biscuit. After a month, she'd managed to get the owner to consider $1250 a week, my manager was quite upset she'd lost so much lead time before being able to convince the owner to meet the market with a realistic rental price. She'd advised him to the best of her ability, but he simply didn't believe her at first. Of course she knew it was now going to take another month to actually source a tenant and get them moved in, which means at least 2 months of lost rent – ten thousand dollars down the drain!
"Ah that reminds me – while I'm here, let me show you a fantastic tool that can ensure this never happens again and is available to all of our managers via TheOnsiteManager". I jumped onto her Control Panel, and with 1 mouse click I had her hooked into the Rental Reporting Database tool. This is a spectacularly powerful tool that very few managers ever use (or even know exists), even though they scroll right past it every day directly on their Control Panel.
Within 10 seconds I'd punched in her suburb, the apartment type (3 bedder), and the building type (apartment) and pressed enter. The tool instantly fed back a beautifully presented, multi-page infographic report showing real-time data on the current rental vacancies in her area. It showed all the demographics of tenants, market conditions, trajectory, even how many tenants had pets, and of course it showed not just the average asking rent for the class of listing, but the RANGE of rent. We could instantly see that the absolute highest rent possible is $1250. Within seconds we had all of the data from the ENTIRE rental market to support her original claim that $2000 was way too much to ask – even for a penthouse and $1250 would be a more reasonable price. Clearly, the manager was highly experienced, and had great knowledge of her market and her product, and she'd tried her best to assist her owner accordingly – but this tool had the reporting power to back her up. Without it, she simply had to go-it-alone and hope the owner believed her. If she'd known about this tool a month ago, it would have made her case to this owner so much more compelling, and would have probably saved them both a lot of time and bother.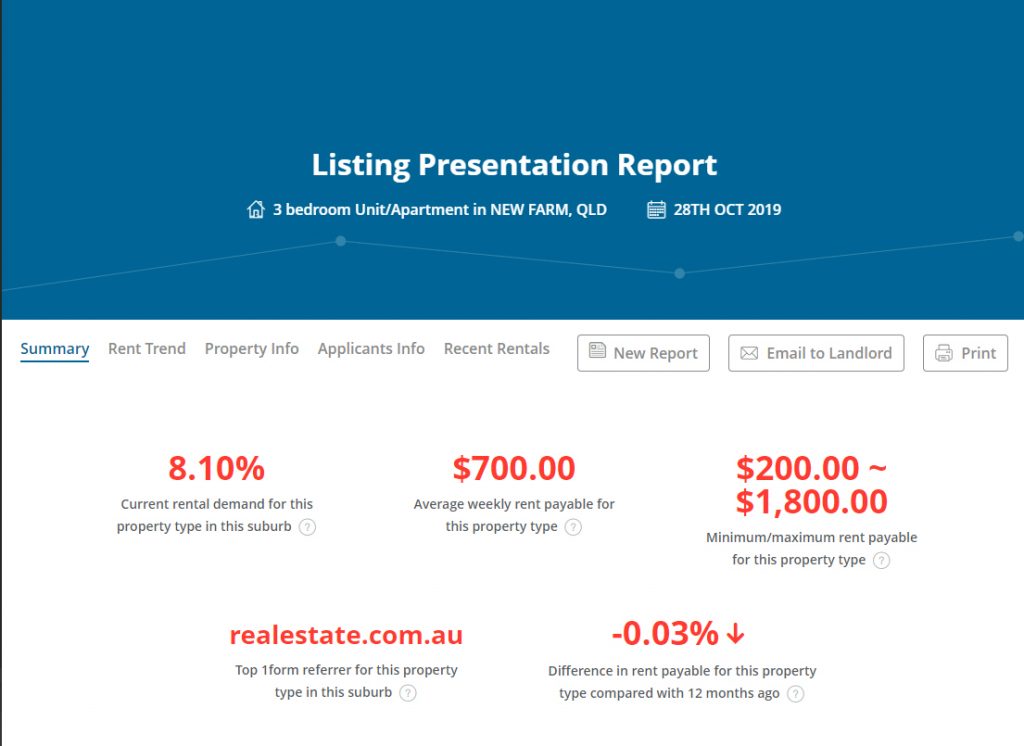 Next time you find yourself needing to plead your case with an owner, remember to check out the Rental Reporting Database on your control panel, it may be free, but the information it provides is priceless!