I recently purchased a Telsa X to replace my Rangerover. In the last year of use, my beloved V8 Supercharged Autobiography cost me over $18,000 in servicing maintenance and fuel. Enough was enough. I never wanted to pay for fuel, maintenance or servicing ever again, so I called up my local Telsa dealer, ordered a car, and a week later it was sitting in my driveway. What impact will these EVs have on Body Corporates as more and more take to our roads?
Having now owned a Telsa for six months, I have never felt more comfortable about my decision! The car is incredible. It never needs to be serviced, it has every feature you could possibly imagine (it even unlocks and opens the doors for you when you approach, it can drive itself, you can call it to drive up to you from your phone while you're not even inside the car!) and although it's the same size and weight as my old Rangerover, it will accelerate to 100kph in literally half the time (4.5 seconds, neck-snappingly fast). All said and done, I am now convinced that for the rest of my life, I will *never* go back to a petrol vehicle, there is literally no comparison.
On the basis of this epiphany, it's reasonable to assume that over the next few years, the majority of motorists will do likewise. When the Telsa 3 launches later this year, luxury super-car electric performance with almost zero running costs will be in the same price bracket as a new Hyundai… literally no one is going to buy anything else. What sort of ramifications will this have on apartment buildings (where EVs will be best suited due to the city driving they'll do)?
Well the media are certainly whipping up their fair share of FUD (Fear Uncertainty and Doubt) about the effects of EVs, and my own body corporate committee have already discussed how to accommodate the eventuality; but given my own experience with my EV, I think the entire situation is an electrical storm in a tea-cup.
The main concern for Body Corporates is, how will owners charge their EV? There's 3 ways you can 'refuel' a tesla (other hybrid EVs also can refuel with petrol, but that means you need to go back to having an engine again, and I never want to own another combustion engine, too many moving parts powered by primitive 19th century technology breaking down, requiring servicing, etc, so for this article I'm focusing on 100% electric cars).
Super Charger (150 KiloWatts)
The first way you can refuel is from a super-charger. There's plenty of these around, most major cities have one. They kick out MASSIVE high wattage of power – 150kilowatts in fact. They are located at cafes and shopping centres so you can park your car, refuel it, and go grab lunch or a coffee. It takes about 40 minutes to almost completely refuel your vehicle – although unlike petrol cars, you generally don't run your 'tank' down to empty, and you almost never fully fill it (bad for battery health) so 40 minutes would be unusual.. 15-20 minutes would be a more accurate time frame for refuelling for general use (unless you were embarking on a huge road trip). So basically the time it takes to get out, order and consume a cup of coffee is all you need. This is certainly viable for most city users, and given the VERY cheap price of super charging ($6 would get you to the gold coast and back) it's certainly affordable. Of course this method has absolutely no affect on Body Corporates at all because super chargers are off site.
By the way, if you happen to buy a Telsa – BE SURE TO TELL THEM NICK BUICK SENT YOU! By mentioning my name while purchasing, you will receive 1700 kilometers of FREE super charging (and I get the same) – it's well worth it to just mention my name before you sign on the dotted line.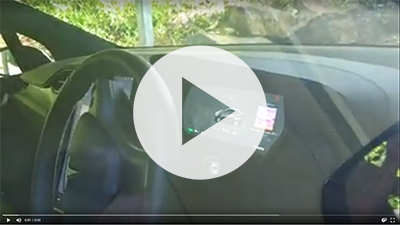 Standard Power Point (2.3 Kilowatts)
Your Telsa comes with a standard 230 volt wall-socket charger called a 'travel charger'. You can keep it in your boot, it can plug into any standard wall socket and will recharge your car at a rate of about 8km per hour. Here's a video I took recently recharging my Telsa from a rain forest cabin I drove to in NSW.
To FULLY recharge the EV will take a day or so, but again, we never fully run our battery down and we never fully charge it up, so for most people (myself included) simply plugging the car into a standard wall socket each night and unplugging it in the morning is more than enough time to give you three or four days of use. Basically for most normal use, you'd never need more than a standard powerpoint to keep your ev running. This is an important note for body corporates because it means that if you own an EV, you can stick an extension lead into any old wall socket in the basement car park overnight, and the body corporate will be footing the bill for your car. Obviously this is not ideal for other lot owners, so it is therefore in the committee's best interests to allow all ev owners to have a charger installed directly to their own car bay (at their own expense, of course), to avoid this scenario. A copy of a request letter can be read here: https://www.tesla.com/sites/default/files/support/home-charging-installation/letter-requesting-approval-charging-installation_AU.docx . If you are sent one of these letters – probably best to approve it, because otherwise the old extension lead will likely be making the rounds.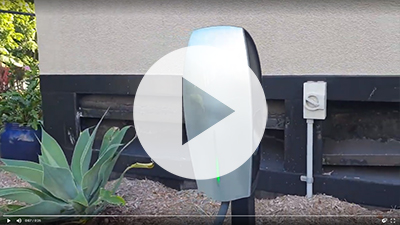 Wall Charger (22 KiloWatts)
The third way to refuel is with a wall charger. When you buy a Tesla, they give you one of these included. It's a cool looking silver device with shiney green lights that is mounted to a wall by a professional electrician. It can be fed various voltage from basic 10amp 230v (normal wall socket power) right up to three phase 32amp (which will still step down to a max 22kilowatt of power). Any licenced sparky can easily install one of these very quickly. This is what most EV owners will want to have fitted to their private car bay when they send a request letter. It runs on its own circuit, and goes back to the owner's meter box meaning the owner pays for all the power their ev uses and they pay for the installation as well. It costs the body corporate nothing, and of course having a car park filled with EV chargers is a great selling point for a building and shows investors it's future-proofed.
In conclusion, it's neither complicated, nor expensive to retro-fit EV charging infrastructure into lot owner's private car spaces. It has no negative impact on other lot owners or the body corporate, and it reduces the likelihood of EV owners 'stealing' electricity from the body corporate by accessing common area power points. Body corporates should approve applications for installation when they arise, provided the installer is a licenced electrician and takes care to ensure the installation is done neatly and paid for by the owner themselves not the body corporate. Building managers should make a note of quality installers and could then keep their details on file and recommend them to new EV owners as they come on board ensuring all installations are of high quality. As time goes on, we will absolutely be seeing massive numbers of EVs on our roads and in our complexes, but it needn't be a painful transition if body corporates put some simple ground rules in place ahead of time.