TWO landmark oceanfront resorts on the Sunshine Coast and Fraser Coast changed hands today (August 1, 2018) with the settlement of separate blue chip management rights sales for a total of close to $15 million.
Specialist agency Resort Brokers confirmed the multi-million dollar sales of Oceans Resort and Spa Hervey Bay and Rumba Resort Caloundra, both handled by Sunshine Coast broker Glenn Millar.
Global hotel group Minor Hotels has bought the rights to the Hervey Bay resort from Oceans Queensland, a leading private operator associated with the former managing director of channels Nine, Seven and Ten, Gary Rice.
The sale price was not disclosed.
The seven-storey, 128-unit complex on Charlton Esplanade will be operated under Minor Hotels' Oaks Hotels & Resorts division, as Oaks Resort & Spa Hervey Bay.
It is the second time Mr Millar has sold the management rights to the prime property, which was originally launched in 2007 as Peppers Pier Resort.
"I had previously handled the sale from Mantra Group to Oceans Queensland in 2014, so I knew the complex intimately and am pleased to now see it pass to top flight operators Oaks and Minor Hotels," Mr Millar said.
"Resort Brokers has had a long association with Minor Hotels and has been closely involved in their expansion in Australia through a number of significant acquisitions here in Queensland, on the Gold Coast and in Melbourne.
"The Hervey Bay complex is an exceptional hotel-style property and the management agreements are such that it can operate as a full service resort with an exceptional range of recreation, spa, conference and hospitality facilities on site," he said.
Gary Rice's Oceans Queensland, also the former operator of Landmark Mooloolaba, Oceans Mooloolaba and The Rise Noosa, still runs the upscale Breeze Mooloolaba Resort.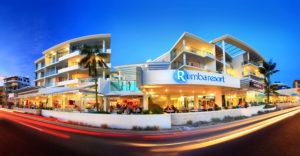 At Caloundra, the award-winning Rumba Resort has been bought by SC Resort Management, headed by former On The Beach Noosa operators, Benn and Leslie Wilson.
The price paid for the rights to the 5-star beachfront resort and associated real estate was also not disclosed.
The property was sold through Resort Brokers by Village Management Corporation, associated with high profile Sunshine Coast business and tourism industry identity, Bill Darby, in partnership with Bob Buckland and Mark Hall.
Opened by Village Management Corp in 2009, the premium five-level, 74-unit Rumba Resort took out the top Sunshine Coast Tourism Accommodation Award in 2014, 2015 and again in 2016, also achieving bronze and silver awards at State level.
Mr Millar said the management rights sale included a two-bedroom unit and a 387sq m commercial lot incorporating the 26° Bar + Venue, conference rooms and kitchen.
Rumba Resort, on beachfront Leeding Terrace, is Caloundra's only 5-star resort, with two low rise towers wrapping around two swimming pools, an elegant foyer, mix of luxury one, two and three-bedroom apartments, and high-end leisure amenities.
"With an impressive trading history, high annual occupancy exceeding 80 per cent, and robust net income, this is a true blue chip operation that attracted very strong interest," Mr Millar said.
"It's great to see it sold to an experienced local Sunshine Coast operator."
Mr Millar said the appetite for quality, large-scale resort management rights was strong, particularly on the Sunshine Coast where major infrastructure investment and a thriving visitor economy were driving demand.
"Investment in region-building projects like the new Maroochydore CBD, Sunshine Coast Airport expansion, more tourist attractions like the $450 million Actventure theme park project, not to mention the university and hospital expansions, have really signalled the region's arrival as a dynamic economic, tourism and lifestyle hub," he said.
His other recent sales have included beachfront resorts in Hastings Street, Maison Noosa and On the Beach Resort, both for more than $5 million, Aqua Vista Resort Maroochydore, Verve on Cotton Tree, La Mer Sunshine Beach and Marcoola Beach Resort.
Recently Mr Millar listed the management rights and associated real estate at the luxury Altitude on Montville property with an asking price of $3.5 million.
He has also been appointed to sell The Billi Resort, a unique accommodation destination at Cable Beach in Broome, Western Australia.