Naturally, onsite managers always prefer to sell to an investor, it just makes sense from a business perspective… But more than that, managers know their stock inside-and-out, they literally *live* and breath their listings, unlike a conventional agent. The manager understands how units behave as investment vehicles, and they can do an excellent job explaining all this to a prospective buyer without even thinking about it. It just rolls off the top of their head. They know the condition of the sinking fund, the admin fund, how the committee is performing, the schedule for upgrades, the return potential and current rental demand, and of course how much the units are selling for.
I know from my own experience buying investment properties, the onsite manager is always the best person to speak to about expected returns in a complex. Even when an outside agent is listing the property for sale, I find when I tell them I'm purchasing for investment, the first thing they do (assuming they don't try to poach the management for themselves) is flick me over to the onsite manager to find out about the investment details. The manager has to field all the questions, and basically sell the unit to me, while the agent gets all the commission and credit. It's not fair – and it's one of the reasons we invented TheOnsiteManager 15 years ago – allowing onsite managers to also sell listings inside their complex and compete with the outside agents… and of course we do all this for managers, without charging them a dime of commission.
It's always amazed me how well managers do at selling listings too, and how much they seem to doubt themselves when they first come on board. They are often intimidated by outside agents and don't think they can do as good of a job. They'll often call me, elated, when they close their first deal and "it was so much easier than I thought!". Of course selling listings isn't difficult when they're marketed correctly, priced correctly, all the contracts and paperwork are in order, and the sales person knows the product inside and out. We can help with the first 3 factors, the last one managers take care of themselves.
More and more we're finding investors, and even diversified funds are using TheOnsiteManager to identify viable investment properties to purchase for their portfolios. They're actually using the site directly, instead of going to sites like RealEstate.com.au or Domain.com.au because the site has so many investment listings and all listing content is investment-centric. Of course it was never the original intention of our website to be an investment property portal – our site was designed to be a management rights portal – but we certainly do have a lot of investment property listed there. We have listings from over 400 different complexes! And with that, come users hunting specifically for investments. I'm even getting fund managers contact my office wanting spreadsheets of all current listings to identify the best properties to purchase for their clients. It's really exciting to see.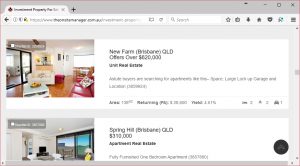 In order to encourage this new audience, we've started presenting more financial data on residential sales listings to help investors make a better short list of property. Now in search results, listings will show (in addition to the usual beds, baths, car spaces) The Floor Space; The Gross Return (PA); and; The Yield. TheOnsiteManager.com.au is the only property portal that displays this data to investors from search results, making it a far quicker process to nail down suitable investments. We'd strongly advise all managers selling listings complete these financial fields to ensure their listings aren't overlooked.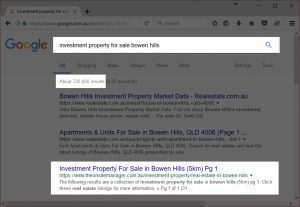 We've also focused heavily, and invested strongly on Search Engine Optimisation for our top 10 suburbs in terms of investment property listing density. These are Southport; Oxley; Carrara; Bowen Hills; Calamvale; Labrador; Runaway Bay; Clear Island Waters and Waitara. As a result, if you search google for Investment Property In [Suburb] or Investment Property For Sale [Suburb] TheOnsiteManager is generally the first organic listing on the page after RealEstate.com.au. TheOnsiteManager.com.au is beating every other realestate portal, including Domain for investment related real estate searches in the top ten regions our managers list in. This is obviously a considerable advantage for onsite managers seeking to market to investors.
You can see the new investment section on the website by going here: https://www.theonsitemanager.com.au/investment-property . We'd love to speak to you about how we can assist you to sell and rent residential listings inside your complex and strengthen your letting pool **WITHOUT** sacrificing your commission, drop us a line here.