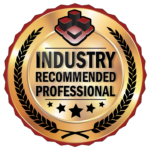 Our 2019 Industry Recommended Professional program has now commenced. All managers are encouraged to nominate your Industry Recommended Professional across 6 fields of expertise. As per last year, the winners across each category will receive the much coveted Industry Excellence Award at our awards night happening later in the year.
This year we have 6 fields of expertise: Legal; Accounting; Brokers; Relief Management; Body Corporate Management and Finance. All professionals who receive nominations will be prioritised on the website and of course will proudly display the Industry Recommended Professional decal on their profile.
Last year's event saw many fields hotly contested and often single votes tipped the balance so make sure you get your nominations in! All 425 of our onsite managers have access to the voting panel off their control panel on our website. Last year's event completely sold out and by all accounts, everyone had a fantastic evening so we can't wait to do it all again this year. We hope all our managers and suppliers will get involved.
Watch this space as we'll update you soon about the venue and official date of the 2019 Industry Excellence Awards.