We are thrilled to be hosting our first ever industry night on the 19th of October 2018. This will be a black tie affair where the winners of our Industry Recommended Professional program are announced and receive their industry excellence awards for 2018. The event is scheduled for Friday October the 19th in Cloudland's exclusive Heritage Room (Capacity for 200 guests). It's a spectacular venue and we've organised an open bar, light food, DJ, door prizes and give-aways, and of course a great chance to meet and mingle with your fellow onsite managers and industry associates.
So far over half of our managers tickets have been taken, and we still have about 100 supplier tickets available for purchase, so it looks set to be a sell-out event! I'm really looking forward to meeting so many of our managers and associates, it will be a really fun night be sure to book your tickets here: https://www.eventbrite.com.au/e/industry-recommended-professional-awards-night-tickets-48687734324 (onsite managers, contact info@theonsitemanager.com.au for your free managers' tickets).
Remember, if you're an onsite manager, be sure to lodge your recommendations for Accountants, Solicitors, Financiers, Insurance Providers, Relief Managers and MR Brokers and Body Corporate Managers as soon as possible! Your votes are very important for determining which industry suppliers receive an industry excellence award so make sure you have your say! There's 2 months to go, the voting panel is displayed as soon as you log in (see screen shot).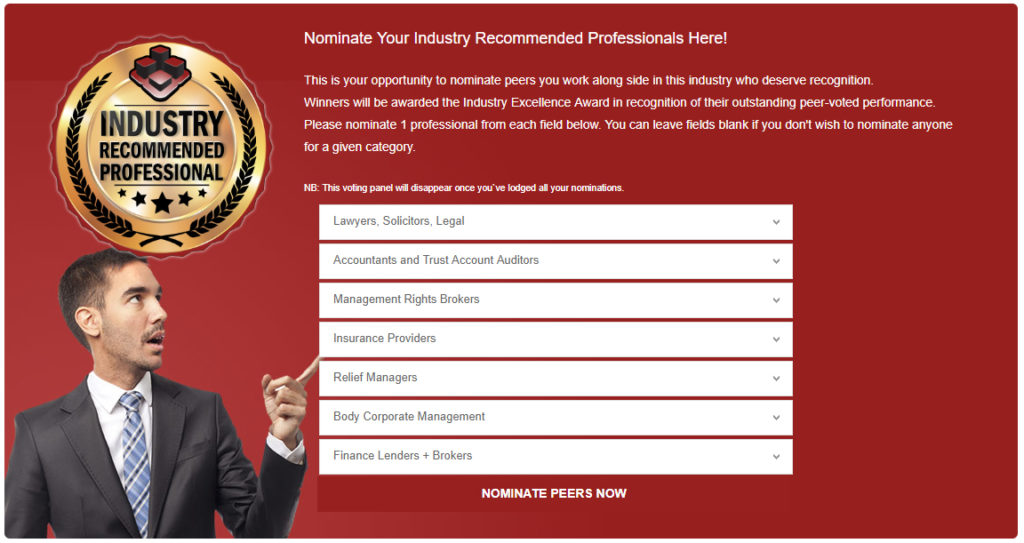 Our very generous event sponsors: RealEstate.com.au Advantage, Complex External Cleaning and HiRUM Software Solutions will of course all be joining us for the celebration, I urge all onsite managers to show your appreciation for their support of this important event: consider booking a listing upgrade on REA, or if you're currently seeking external building and window cleaning, or facilities management software, get in touch with Complex External Cleaning or HiRUM and be sure to thank them for making this event possible.